DOB 13TH JULY 2016
We welcome Felix & Lizzie's babies!
MULTI CH FELIX FELICIS DEL GRAN PAMIR x DIZZY MIZZ LIZZY DEL GRAN PAMIR
"Felix" is one of Italy's top winning Afghans in recent years while "Lizzie" has never been shown but is no less than her amazing Multi winning littermates Champions Mr Spaceman, Michelle Ma Belle, Lady Madonna and Eleanor Rigby del Gran Pamir. We expect balanced and sound puppies embodying the qualities we treasure in our Afghans!
For more information feel free to contact us, granpamir@granpamir.it!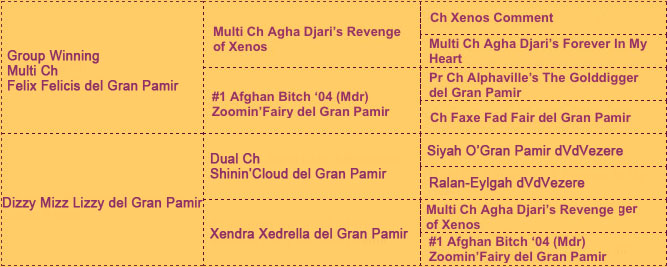 Fair 'N Fantabulous del Gran Pamir
Tutshill Tornado del Gran Pamir (Owner Gianmaria Alippi, CH)
Quirinus Quirrell del Gran Pamir (Owner Roberta Cerreti)
Filius Flitwick del Gran Pamir (Owner Irene Maltese)
Fair Bluebell Flame del Gran Pamir (Owner Liliana & Giuseppe Mainardi)
Penelope Padma Patil del Gran Pamir (Owner Luigi Martinelli)