At the WDS in Milan 2015
Welcome to learn about Gran Pamir.
Our Kennel is located on the hills of Torino, the first Italian capital, in the North-West of Italy just next to the Alps.
I (Cinzia) was born with a destiny to love Afghan Hounds written in my genes, as my parents Rosemma & Lorenzo Aymaretti, had been the first Afghan Hound breeders in Italy, getting their kennel prefix registered by It. K.C. (ENCI) and F.C.I. in the 50's.
Welcome to read our history below, summed up for your enjoyment.
You can also read an article about us and our Kennel History HERE. We also hope you will enjoy the History Gallery, showing our oldest stars or significant Afghans.
In italiano potete visionare gli articoli:
– La storia del nostro allevamento, scaricabile in pdf QUI, in italiano e inglese; pubblicati entrambi sul libro AIALA Trent'anni di storia (2011), e visionare la History Gallery.
The beginnings
In the 50's my parents Rosemma and Lorenzo could obtain a golden dog directly from Afghanistan at that time, but their foundation stock were from the "classic" greatest Champions in Europe. They imported first of all It Ch Maharani v.d. Irminsul, a bitch from Ch Swetley v.d. Irminsul x Ch Maruuf v.d. Irminsul, linebred from Ch
Badshah of Ainsdart, Ch Sirdar of Ghazni, Lakki Marwat, Ch Garrymhor Faiz Bu Hassid and the other old "greats". She was mated to Ch Cervetto of Khorrassan linebred to the original English lines: Ravelly, Turkuman, Carloway.
Then they got Ch Oschingis (from the same bloodline of the famous Ch Ophaal of Crown Crest), a Chota grandson.
From this stock we got many champions. Pictured are Champions Oschingis, Chandrah Visnu Khan, Lahor, Xandra, Yul del Gran Pamir in 1963.
The 60's and the 70's
In the 60's we imported some other producers to blend with our genetic pool: Ch Morello of Mooonswift, a red bitch from Carloway lines, BIS Ch El
Kamas Danish Dominator, a grandson of Ch Horningsea Tigers Eye and of the beautiful BIS Am Nord Multi Ch El Kamas Wladimir. He was the very first brindle Afghan in Italy, and the first one from Scandinavia at all, a true rarity.
In the 70's we added Ch El Kamas Danish Daredevil (pictured) from Denmark again. I was very young but I travelled alone to Denmark for the first time to pick him from a litter from BIS WW MCh Haboob von Katwiga x Ch Safarina Begum el Miharaja. He became an Italian, International, Europe Sieger, Top Producer, multi-champion producer and multi-BIS Champion and lived 15 years with us.
In '74 we got BIS Ch Khaza's Amohi (BIS Multi Ch Huilaco's Antar Rakashi x a Grandeur linebred bitch, Saoura de Port Francois). He was a Top Producer too, according to ENCI rules. He was Westminster BIS Ch. Shirkhan of Grandeur great great grandson.
During the following years we bred many champions and many CAC, CACIB, BIS, BOB winners, even if we always carried a very limited and selecting breeding and/or showing in a "family matter" home kennel, aiming to top quality not quantity. However our dogs contributed to the foundation of many new kennels or the development of their breeding program.
The 80's and the 90's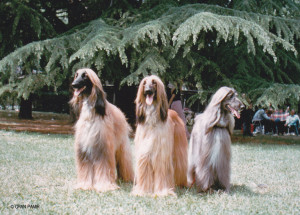 In our breeding program we usually tried to keep on with our own bloodline with bitches to be bred to producers from different, interesting lines when additional positive inputs of foreign bloodlines were needed in our minds. Some of our champions in the 80's were Ch Khyndrah del Gran Pamir, Ch Asman Blu Tygrah del Gran Pamir, SBIS & BIS It Int Ch Tiger Sandokhan del Gran Pamir, Ch Khamrahy del Gran Pamir and others…. Have a look at them in the "History" Gallery!
In the 80's, after the marriage with my husband Sergio and the birth of two "puppy girls" of our own production, we had to restrict our activity in showing and breeding Afghans for some years and take care of our human family.
In '89, we added to our breeding some Australian bloodlines from the famous Khandhu Kennel and we bred Top Producer and Champion Producer Multi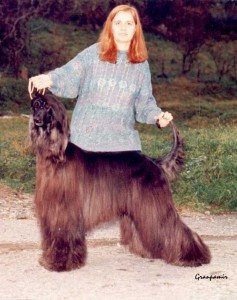 SBIS & BIS Ch El Ashraf Siyah Khan del Gran Pamir (pictured), a black and blue brindle dog who was awarded two Specialties Best in Show over about 100 Afghans (a record for Italy), with judges Mr Magnus Hagstedt and Mrs Isobel Dyke at A.H. Club of Italy (AIALA). This was also a true rarity to use Australian Afghans in Italy for the very first time. He was a son of Ch Khandhu Echo Australis by SBIS & BIS Austr Ch Khandhu Laser Litefoot's grandson.
In my opinion, he enhanced most (if not all) of the typical points we aim for in the breed: he was aloof and dignified, proud, and sound of body and temperament, a great mover with that stylish "touch of class" I love so much in Afghans.
He produced six litters, one with an Italian bred Gran Pamir bitch, three with a SBIS & BIS It Int Sw Fr Germ Ch Kefalaris Scenario daughter, Absorba's Indira Ghandi (Imp Austria), who is linebred Katwiga, and from one of these litters we picked out for ourselves his son near Ch Afghan Khan Must Go On del Gran Pamir "Freddie" (pictured, a
CAC/CACIB BOG winner). Freddie himself was used as a stud dog by two differerent kennels ("Vallée de la Vézére", a top winning breeder in the 90's, and the "L'Isle Rare"), producing several show winners as well lure coursing stand outs; from his first litter born in 2001 we retained Showgoon O'Gran Pamir de la Vallée de la Vézére.
The fourth litter was from Boxadan Big Girls Don't Cry which we are very proud of her winning sons. This litter turned out to be one of the best we've ever bred, consisting in three Champions (Club/Italian/International: Faxe Fad Fair (pictured), Wahalywood, Havisamanda), more Specialty/Breed winners, and multi coursing winners. We repeated this faboulous breeding and we decided to keep 2 outstanding babies: a brindle boy, Katumba El Tazman Devil del Gran Pamir -"Tigro" – who then became a champion producer himself in the 2000's, and a black 'n tan girl, Kush Millah Millah del Gran Pamir – "Millah".
Our breeding program has never been a professional one in terms of quantity, rather it has in terms of quality. Family
matters have also been a priority therefore with litters bred every few years, we have always focused on the quality produced by our dogs. Something a breeder should always do! And to think of the breed as an "income mean".
Apart from Afghans, I like to adjoin our activities in Borzois breeding. From 1965 to the '80s, we owned and sparingly bred Borzois too in a very low
number of litters. Our stud foundation dog was Ch Craf von Troybhiko from Nederlands and the first bitch was Chantal di Roccabarbara (daughter of World Winner – Multi Champions) carrying French and English classic lines. These dogs can be still found in older generations of Italian pedigrees.
We bred many champions until the 80's, among them I want to name CH Dhunay del Gran Pamir (pictured), Ch Baryshnykov del Gran Pamir and Ch Nijinsky del Gran Pamir and Nureyev del Gran Pamir, out from Ch Jasmine del Gran Pamir x Ch Andrey ad Zarenreich.
We bred about 20 champions with multi BIS Winners. Our last Borzoi died in 2002, but we stopped showing in the late '80s.
2000
With the '90's coming to an end, we purchased a Swedish import from kennel Alphaville from Sweden, to strengthen our Scandinavian blood. The sire of our 2002 and 2004 litters was Alphaville's The Golddigger del Gran Pamir "Fabio", sired by Cinzia's Finnish BIS in '94 Multi Ch Scaramis Da Capo, the top winning Afghan Hound in Finland of all times, himself a son of Multi Ch Boxadan Xercise Makes Master. Fabio's mother instead carries different Australian lines so we also strengthened that side of our pedigrees.
Fabio sired two litters, one out of Ch Faxe Fad Fair del Gran Pamir (2 years old) and one by Kush Millah Millah del Gran Pamir (born April '04). Out of Faxe he sired CAC/BOB/Group Placing winners; also their daughter "Venus" Jr Ch Miss Fair N Fire was European Hope 2002 (Eur CH from the 6-9 m class), Club Jun Champion and # 1 Jun Afghan in Italy '02, she's also the youngest and first Italian bitch to ever qualify for Crufts by winning in Paris in 2002. Brother "Khyber" Mr FairyFab was shown only a few times due his owner's commitments but at least he left his mark as a stud dog by producing Multi Conformation/LC Champions in Italy and abroad (as well as the first Dual Champion in Italy).
Sister "Tuuli" Zoomin' Fairy (pictured) was # 1 Bitch All Breed in 2014 and proved herself as a great brood bitch producing an amazing litter of 9 that need no introduction (exported to 4 countries), out of Multi Ch Agha Djari's Revenge of Xenos. Just to name a few, MCh Bellatrix Bloxom (# 1 Afghan Bitch 2013), MCh Felix Felicis (also father of two litters thanks to whom he was awarded the Producing Ch title), Nymphadora Nexos have all been winners with Bellatrix and Felix accomplishing top honors 2010-2015; Xendra Xedrella is mother to Champions from two litters and Aramintax Ayreez is a kennel foundation bitch in France. You can have a look at them in the Dogs' section!
In 2001 we also got our pick of the Freddie x Meli litter "Shogun" (see above), who carries the beautiful and stylish type of his grandfather BIS Ch Tifarah's Moral Victory. He was never shown due to our commitments but has left a legacy through the kids born at kennel Dietinger's, who accomplished nice wins and are still young.
As far as stud dogs are concerned we are also proud of the results earned by Katuumba's progeny for Dietinger's, among whom the best known is Multi
Ch Dietinger's Bj Thee Mustafa. Shogun's brother and sister Siyah and Sarah have also produced well for us and kennel Kharasahn in 2005/2006, producing Multi Conformation/LC/Racing Champions, including a European Coursing Champion. These dogs are the grandparents and parents of our latest young champions, as to date late 2015, Michelle Ma Belle, Eleanor Rigby*, Lady Madonna and Mr Spaceman; they come from the blend of the Shogun/Fabio/Faxe/Tuuli lines, their dam is Xendra Xedrella (Rush x Tuuli).
Our latest litters were born in 2014. For the first mating we chose a Belgian import to be bred to Nymphadora Nexos, Kendall del Ghyryo (by MCh Be A Dream A Touch of Freedom x MCh Cayra del Ghyryo), who is on the way to finish his Italian title and is a multi group winner. We are very pleased with the results of this combination so far resulting in # 1 Young Afghans, Multi Crufts Qualified and Group Winner.
The second litter was out of Ch Bellatrix Bloxom and Multi SBIS BIS Aust Sup Champion Khandhu Got The Look, already a SBIS winner under Cinzia. This is a dream come true litter but sadly only one big, healthy baby, Tjuringa Sacred Spirit, was born. But what a stand out. He's already a Group placing starting his Int Ch title at 17 months and finishing it quickly in early 2017, a black stallion look alike Afghan and extremely stubborn. We can't wait until he matures and add him to our breeding program.
Other young litters are on the ground with many promising youngsters growing up: born in 2016 & 2017 litters out of our stud dogs MCh Felix Felicis and Ch Tjuringa were born, have a look under litters while our site is updated with their own pages!
In 2015 Gran Pamir was awarded #2 Sighthound breeder by the Italian Kennel Club.
All in all over the past years Gran Pamir Afghans have owned and bred about 85 champions, always showing
selectively, with an uncounted number of champion offspring that our dogs produced for different kennels.
Most of all the first Afghan Hounds Italian kennels were founded upon our own bred foundation stock and actually most of all Italian breeding carries on in their breeding our bloodlines "Gran Pamir". Thanks to everyone who helped in achieving such results.
Of course we are very proud of everything we have done for the breed in Italy and abroad, with our own work in Afghans all over the years. We are also proud of all our FCI licensed sporting dogs/bitches too (coursing and track): the first FCI licensed Afghan to get the Champion (Shows) title also is a Gran Pamir bitch (Ch Asman Blu Tygrah del Gran Pamir).
Gran Pamir has exported Afghans and Borzois to Three Continents.
By the way, the Gran Pamir Afghans they were chosen to "play" in un uncountable number of movies and tv commercials as well for photography sessions (fashion, tv, movies, commercials, magazines, dog magazines). Michelle is our latest "top model", have fun looking at her pictures!
Our Afghans are not artificially made up, but what you see is what you get. Unretouched in their photos! Our aim is to improve the details we think are most important without never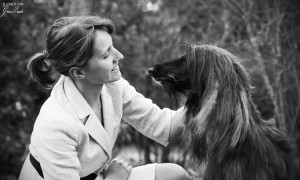 leaving others aside. Our goal is to produce dogs that match the Afghan standard with that "magic touch" according to our own likes, and we are glad we actually have been able to do so.
We do not breed for a living and that's one of the reasons why we have always sparingly shown dogs, as family and other duties have often had to come first, but still we are proud of what we done through the years by ourselves and with the help of treasured friends and supporters!
Our philosophy is breeding to preserve the true Afghan Type improving temperament, soundness and beauty. We breed very few litters and the quality of the puppies in each litter is always even and high. They are our children and during their lives in other homes we never lose track of what they go through and follow them until their last day. In the end….
…WE ARE BREEDERS.
"We spend a lifetime learning pedigrees, going over dogs, talking, and learning from those in my breed and those outside it.
We raise each litter as if we gave birth to them and spend an equal amount of time finding them loving forever homes. We only put puppies on this planet that we think will be the healthiest (mentally and physically) and nicest examples of their breed.
We support each family who chose one of my puppies and let them know they are now a part of our extended family. We are there if one needs to come back.
We support the breed in rescue and education. We hold them when they arrive and leave this world.
We share my knowledge and socialize our dogs so that they will be the advertisement for our dedication.
We don't keep track of the money and time we put in to our love of dogs, it would not be a true measure of how we feel. The price we charge for our puppies is never profit, but investment in the next generation.
We am not ashamed of who we are… We work hard at being good dog people and encouraging others to be the same.
We are breeders and we proud of it. If we don't support each other – we are doomed as a fancy. "